Are Electric Vehicles Fire Safe?
In short: Yes, they are! In fact, evidence suggests that lithium-ion batteries used in EVs are in fact as safe or even safer than conventional fuel vehicles. While EVs fires have been recorded in Australia and around the world, there are numerous studies that show that fires in EVs are no more likely or even less likely to occur than fires in traditional Internal Combustion Engine vehicles.
EVs do not carry fuel, they don't need a catalytic converter, and their electrical engines don't over heat; those are the principal causes of fire in a car.
But in case of a car accident or an electrical system failure, EVs could still catch fire and burst into flames.
So are you prepared for an EV Fire ?
A fire can happen and it's important to always be prepared for what you would do if you had one in your Electric Car or Vehicle.
There are no mandatory or legal requirements in Australia to have fire extinguishers in your personal vehicles (except for motorhomes and caravans*). But of course, having the right safety equipment to protect your EV against fire, such as a Lithium Ion Battery fire extinguisher is essential to protect your passengers and vehicle.
Electric Vehicles in Australia
Over the past 10 years, the number of road registered electric vehicles (plug-in hybrid and full battery) has been growing by 68% on average year on year.
Australia recorded 20,665 EV sales in 2021 (with Tesla cars representing 60% of the sales), a significant increase from the 6,900 sold in 2020, which means electric cars now make up 1.95% of the new car market.
In the UK, they already represent 15% of the new car market, 25% in Germany and even 72% in Norway.
By 2030, that number is expected to be 26%, equaling 1.3 million EVs on the Australian roads.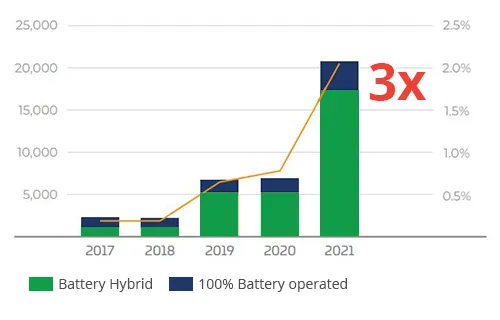 (data sourced on electricvehiclecouncil.com.au)
EV fires statistics in Australia
It is difficult to locate statistics about electric car fire-related incidents in Australian states and territories, and even more challenging to find statistics that can be compared in a meaningful way.
The NSW Department of Fire and Emergency Services records actual vehicle fires (all vehicle types combined) that they have attended, so we can base our statistics on those.
The following table provide a limited snapshot of vehicle fire-related incidents in NSW (sourced on fire.nsw.gov.au):
| | 2018/19 | 2019/20 | 2020/21 |
| --- | --- | --- | --- |
| NSW Vehicle Fires | 3,214 | 3,010 | 2,942 |
| NSW Total Fires | 22,321 | 22,013 | 17,703 |
| % of vehicle fires | 14.4% | 13.7% | 16.6% |
As you can see vehicle fires represent a large percentage (around 15%) of all fires attended by the NSW Fire Department.
Now, in 2021, the percentage of electric cars in Australia accounts for a mere 2% of the overall market (carguide.com.au stats).
While EV vehicles are less likely to catch fire, if we estimate they have the same rate of recorded vehicle fires, we can generate some approximative figures on EV fires.
| | 2018/19 | 2019/20 | 2020/21 |
| --- | --- | --- | --- |
| % of EVs (market share) | 0.9% | 1.4% | 2% |
| NSW Vehicle Fires | 3,214 | 3,010 | 2,942 |
| NSW Estimated EV Fires | approx 29 | approx 42 | approx 58 |
Those are of course estimates only and not actual recorded EV fires.
Most common causes of a EV fire in Australia?
While most electric cars or bikes are well-designed and very safe. they can still catch fire. Here are some reasons why:
Car accidents
Electrical System Failure
Charging Failure
Fuel System Leaks - only for hybrids
Overheating Engine - only for hybrids
Overheating Catalytic Converters - only for hybrids
Remember once an electric vehicle is ablaze, it really doesn't matter what caused it. If your EV is on fire, get out fast and get as far away from the car as possible.
What to do If a EV fire occurs?
If you're in an Electric Car, you should immediately evacuate and never attempt to extinguish fires yourself.
if the fire is very small and you are equipped with a EV Fire Extinguisher you can try extinguishing the fire.
MAKE SURE YOU HAVE DISCONNECTED THE EV FROM ITS CHARGER / POWER POINT. Or cut the power to your home if you re EV is charging. F-500s are water based and can conduct electricity.
Get everybody out of the car.
Do a headcount and let the fire service know if someone is missing.
Do not go back inside.
Remember Call triple zero (000).
What fire safety equipment should I have in my EV?
Best fire extinguishers and overall safety products for your electric vehicle are: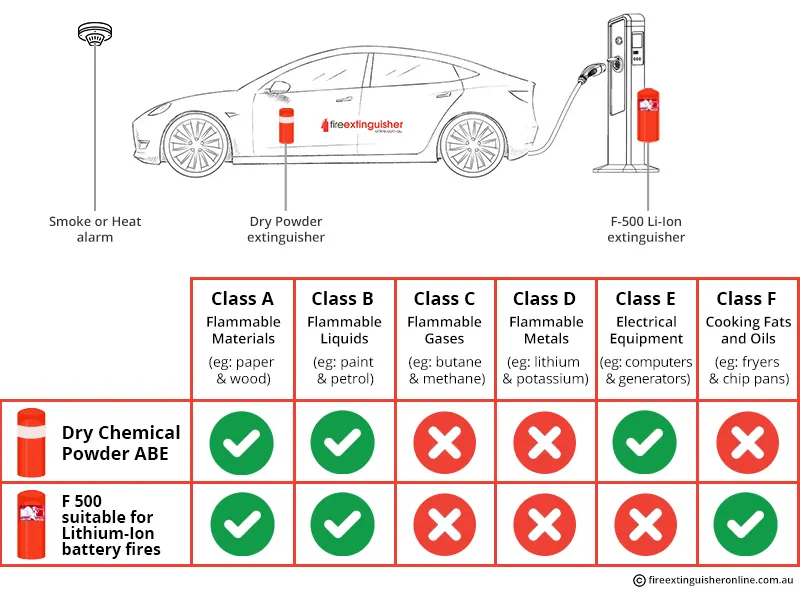 Where to install your Electric Car extinguisher?
EV extinguishers must be installed in easily accessible locations. If you place it in your trunk, you might not have time to get to it when needed. We recommend installing it under the front passenger seat or behind it. It is also important to securely mount the extinguisher (with short self drilling pan head screws) to prevent rolling around or sliding during an accident.
Installing the mounting bracket in an EV:
Since surface types vary, mounting screws are not included with our extinguishers and vehicle brackets. Please purchase screws or bolts specifically designed for the surface on which you will mount the fire extinguisher.
Remove mounting bracket from extinguisher by unlocking the clasp and pulling the bracket away from the extinguisher. Use strong screws to mount the bracket securely onto metal or another solid surface that can support the weight of the fire extinguisher. The mounting bracket must be secure so you can remove the extinguisher quickly in an emergency.
How to use a EV Fire Extinguisher?
MAKE SURE YOU HAVE DISCONNECTED THE EV FROM ITS CHARGER / POWER POINT. Or cut the power to your home if you re EV is charging. F-500s are water based and can conduct electricity.
Knowing how to operate a EV fire extinguisher could save your life in an emergency.
The key to putting out a fire with a EV extinguisher is to use the PASS strategy: Pull the pin, Aim the hose towards the base of the fire, Squeeze the lever, and Sweep the hose.
Remember: Fires double in size every 60 seconds so use a fire extinguisher for small, contained fires only. Leave immediately if you're unable to extinguish the fire and call 000.