Going in the bush with your 4WD? Are you prepared for a Fire?
A fire can happen anywhere, especially in the Australian Bush, and it's important to always be prepared for what you would do if you had one in your 4x4 or Camping Ground.
There are no mandatory or legal requirements in Australia to have fire extinguishers in your 4WD (except for motorhomes and caravans*). But of course, having the right safety equipment to protect your 4wd against fire, such as a fire extinguisher is essential to protect your camping ground, passengers and vehicle.
Fire risks for 4WDs in the bush?
Camp fires:

Going on an adventure with your 4x4 takes you to the country side and the outback, and nothing beats a camp fire under the southern stars. This comes with a fire risk that should be quickly managed.

Bush fires:

Unfortunately bush fires are more and more common those days; either being started by natural causes, such as lightning strikes, or by people (accidentally or on purpose)....

Vehicle Fires:

While most modern-day vehicles are well-designed and very safe. they can still catch fire (Car accidents, Electrical System Failure, Fuel System Leaks, Overheating Engine, Overheating Catalytic Converters).
Remember once a vehicle is ablaze, it really doesn't matter what caused it. If your 4WD is on fire, get out fast and get as far away from the car as possible.
Please follow all fire restrictions and directions by landowners, and State Emergency Services offices.
What fire safety equipment should I have in my 4WD?
Our recommended fire and overall safety products for your 4WD include:
Which fire extinguisher is the best for my 4WD?
While there are a few different types of fire extinguishers (dry powder, water, foam, carbon dioxide, wet chemical), in our professional opinion, here is the best extinguisher set up for your 4WD and trailer:
Inside the 4WD:
we recommend using a 1kg or 1.5kg dry chemical powder extinguisher (ABE). It has good performance, a small gross weight and physical size so anyone in the 4WD can use it. It is a great multi-purpose fire extinguisher well suited for all types of vehicles. (be aware: it leaves a mess and it is not eco friendly)
outside the 4WD:
we recommend using a 9L water extinguisher to tackle camp & clothes fires. It has zero impact on the environment, and can be easily recharged & re-used (water + 80/100 psi pressure).
If your 4WD is equipped with Lithium Ion Batteries:
we recommend a F-500 extinguisher, not only it can extinguish A, B, and F fires, it is also the first agent to extinguish Lithium Ion Battery fires. It also has zero impact on the environment, but can't be easily recharged.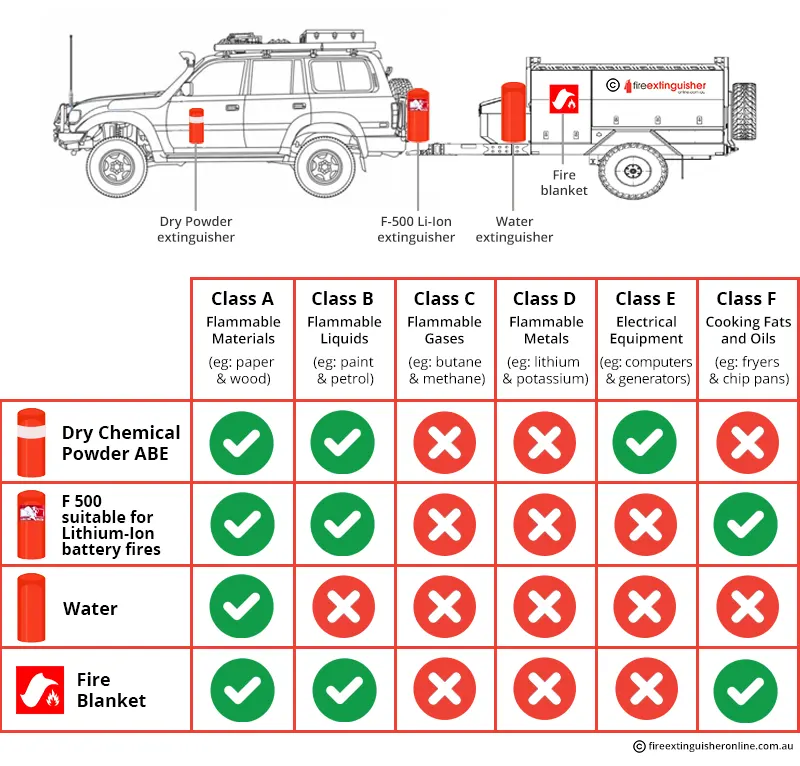 If you are limited in space, the minimum requirement would be a dry powder extinguisher (because it is cost effective and it can extinguish A, B, and E fires), the second one would be a F-500 for lithium ion battery fires and A,B, F fires.
Keeping in mind that a
water extinguisher
is also practical, you can refill it as often as you want.
Where to install your 4WD extinguisher(s)?
4WD extinguishers must be installed in easily accessible locations. If you place it in your trunk or on the roof, you might not have time to get to it when needed. We recommend installing one under the front passenger seat. It is also important to securely mount the extinguisher (with short self drilling pan head screws) to prevent rolling around or sliding during an accident.
When you are outside, an extinguisher should also be accessible: you should mount a heavy duty vehicle bracket and install it on the back of 4WD or on your camping trailer (with an extinguisher cover bag).
Installing the vehicle mounting bracket:
Since surface types vary, mounting screws are not included with our extinguishers and vehicle brackets. Please purchase screws or bolts specifically designed for the surface on which you will mount the fire extinguisher.
Use strong screws to mount the vehicle bracket securely onto metal or another solid surface that can support the weight of the fire extinguisher. The mounting bracket must be secure so you can remove the extinguisher quickly in an emergency.
Extinguishers above 4kg will need a heavy duty bracket.
How to use a 4WD Fire Extinguisher?
Knowing how to operate a 4WD fire extinguisher could save your life in an emergency.
The key to putting out a fire with a car extinguisher is to use the PASS strategy: Pull the pin, Aim the hose towards the base of the fire, Squeeze the lever, and Sweep the hose.
Remember: Fires double in size every 60 seconds so use a fire extinguisher for small, contained fires only. Leave immediately if you're unable to extinguish the fire and call 000.
What to do If a 4WD fire occurs?
If your 4WD catches fire, you should immediately evacuate and never attempt to extinguish fires yourself.
if the fire is small and you are equipped with a 4WD Fire Extinguisher you can try extinguishing the fire.
Get everybody out of the 4x4.
Do a headcount and let the fire service know if someone is missing.
Do not go back inside.
Remember Call triple zero (000).