When installing your fire extinguisher, you need to be informed and understand how to install extinguishers in accordance with Australian Standards AS2444
How to install a Fire Extinguisher?
If your fire extinguishers are installed correctly, you are on your way to successfully help reduce the risk of fire damage and loss of costs to your property being it a house, apartment or granny flat.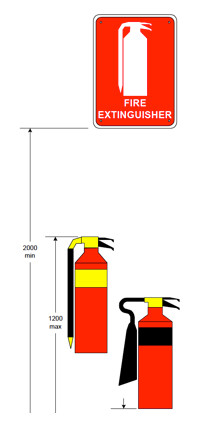 If the extinguishers are required for business use (eg: workplace, shop, restaurant, warehouse, factory...), installation and commissioning should always be carried out by a fire extinguisher service engineers. This ensures that the extinguishers are installed in the correct location and are certified as a proof of correct installation and sufficient provision against the fire safety risks. An incorrectly installed fire extinguisher could result in insurance companies denying your claim.
Considerations before you start installing an extinguisher:
If installing your fire extinguisher on your own, careful considerations need to be given to the following:
Is the type of extinguisher being installed the correct type for the premises (eg: home or business)?
Does the fire extinguisher provide sufficient square meter coverage for the premises?
Type of wall fire extinguisher is being mounted to (eg: plaster, brick, wood...)
Wall fixings must be suitable for wall type
Weight of the fire extinguisher (a 9kg dry powder fire extinguisher weighs 14.5kg)
Cables / pipework behind the installation wall, use a suitable detector
The amount of traffic the installation location is subject to (this can help to prevent accidental demounting, damage of the extinguisher)
Accessibility to the fire extinguisher in the event of a fire
Correct installation according to AS2444
The surrounding environment (does the fire extinguisher need a cover if kept outside?)
Where to install a fire extinguisher, it's best location?
Each fire extinguisher need to be installed in an easily accessible and visible position within the premises, this will ensure it will be available in case of a fire emergency.
According to Australian Standards AS2444, fire extinguishers should be located between 2m and 20m from the hazard (eg: switchboard, kitchen..)
Installing at Home
Do you know, at home, 56% of the fires start in the kitchen !
So here are our location recommendations for your home:
Kitchen & Cooking Areas: install 1 extinguisher, most home fires start here.
Garage: install 1 extinguisher, for switchboards, stored fuels, electric tools, vehicles...
Multiple Level: install 1 extinguisher per level, you don't want to have to run too far to find it in the home.
Installing at Work
In a workplace, installation and commissioning should always be carried out by a fire extinguisher service engineers.
Extinguisher installation height:
Max - 1200mm from floor to top of extinguisher handle
Min - 100mm from floor to bottom of extinguisher
Mounting to the wall:
Extinguishers wall brackets are a hook which contain 2 wall fixings.
Wall fixings need to be adapted (eg: plaster, wood, brick screws...). Use two strong screws to mount the bracket securely that can support the weight of the fire extinguisher.
Use a suitable detector for cables and pipes.
Location and display of sign:
Min - 2000mm above floor level.
At a point that makes them most apparent to a person of average height & visual acuity.
The extinguisher or extinguisher sign shall be clearly visible for up to 20 metres on approach.
The size of the sign shall be determined by location on and distance at which the sign must be legible.
A minimum of one sign must be provided above or adjacent to an extinguisher even if indicating the location of multiple or a mixed group of extinguishers.
The extinguisher and fire point location signs shall have a symbol, border and letters in white on a red field, complying with Australian Standard (AS) 2700.
The Australian Standard (AS) 2444 Portable Fire Extinguishers and Fire Blankets selection and location will provide comprehensive and specific information.
It is also recommended that you have a square instruction disc (ID – SIGN) directly above the extinguisher wall bracket. Even though these details are on the portable fire extinguisher they can get covered up with stickers etc blocking the instructions
Note: This fire extinguisher installation guide is aimed at self-installers (DIY) in a purely domestic setting.