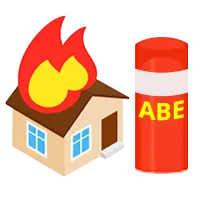 Every year there are around 20,000 house fires in Australia, resulting in the loss of property and in some cases even lives. Property can always be replaced by your home insurance policy, however to protect your life and the lives of those around you, it is important to make sure you have the right extinguisher on hand to deal with a fire.
Here's a guide to buying the right fire extinguisher for your home, and where it should go.
What is the best fire extinguisher for my home?
All homes, from houses to apartments, granny flats to caravans, should have at least one Dry Chemical Powder Extinguisher installed. Also known as a Dry Powder, DCP or ABE, they are the most common type used in households in Australia and are labelled A, B, or E, which tells you the types of fires the extinguisher is effective against. A is for ordinary combustibles like wood, paper, and cloth; B is flammable liquids, such as petrol, turpentine or paint; and E is for electrical fires (home appliances, computers...).
As ABE extinguishers are multi-purpose and cover 3 out of the 6 classes/types of fires, they are the best extinguisher solution for your home.

Other extinguishers for your home?
While a Dry Powder extinguisher is the right solution for your home, some other extinguishers types need mentioning depending on your property specifications.
Solar homes with Lithium Ion Batteries:
A Lithium Ion Battery fire can happen (solar panel batteries, electric car batteries, smartphones, laptops , gardening tools, remote control cars & toys...) and a specific extinguisher is required to extinguish those.
Our F-500 Extinguishers are the first in Australia to be suitable for Lithium Ion battery Fires.
Country homes:
A grass or bush fire can happen and while a Dry powder could be used to tackle those, a water extinguisher is preferred.
Our Water Extinguishers are the best for grass or bush fires as they are larger and have no impact on the environment, they are also rechargeable and cost effective.
High Tech Homes:
Some homes now have fully integrated domotic systems, media rooms and even server rooms.
A CO2 extinguisher is highly recommended for those. The extinguishing agent does not cause any damage to computers or other electrical equipments, making it perfect for your high tech home.
Home fire statistics and causes in Australia
While most modern-day homes are well-designed and safe. A fire can still occur. More Australians are killed in residential fires each year than through other natural hazards - floods, storms and bushfires - combined.
Home fire main causes:
Kitchen fires from unattended cooking (more than 50%)
Smoking & burning materials, such as a cigarette or candles (around 20%)
Electrical Appliances Failure (around 20%)
Heaters & open fires
Remember once your home is ablaze, it really doesn't matter what caused it. If your home is on fire, get out fast and get as far away as possible.
You can read our "home fire safety article" for more information.
Where should I install my fire extinguishers?
Australian experts advise at least one fire extinguisher per floor, but understand that if a fire does start, you don't want to have to run too far to find it in the home. Start by factoring in at least one extinguisher for each floor, then add another extinguisher for every fireplace, one for the kitchen, one for the garage, and put one in any other room in the home you feel necessary, and make sure everyone knows where they are. If an extinguisher is within reach, it can save you precious time in combating an unintentional fire.
You can read our "how to install a fire extinguisher article" for more information.
What else should I have to protect my family from a fire incident?
Smoke Alarm
It's the law to have at least one working smoke alarm installed on every level of your home. The risk of a fatality in a home fire is halved if there is a working smoke alarm in a residential dwelling. In addition to the minimum requirement of one smoke alarm per level, Australian Fire and Rescue Services recommends installing smoke alarms in all bedrooms and living spaces (including hallways and stairways) and even the garage.
We recommend installing a Smart Smoke Alarm System which will shut down electricity automatically in case of a fire.
Fire Blanket
This is a handy item to have in cooking areas and can stop small pan fires from spreading. They are mounted on the wall and easily accessible: using a fire blanket is the best and quickest way to extinguish a pan fire. They can also be used to wrap around people when their clothing has caught fire.
Home fire safety video
Here is a a very informative video about fire safety in your home which explained what fire equipment you need and how to check & maintain them: