With the proper use of a portable fire extinguishers you will be able to reduce or eliminate the degree of injury, damage and cost to business in the event of a small fire. If your fire extinguishers are installed correctly you are on your way to successfully help reduce the risk of damage and loss of costs to your building or workplace. If extinguishers are NOT installed correctly this can be another way insurance companies can look at NOT paying our for your claims. Fire safety in your work place is important!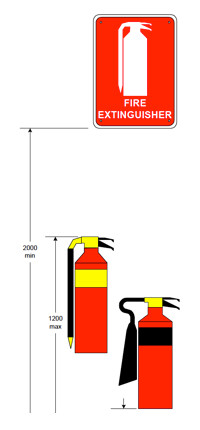 Please note that Installation and Commissioning should always be carried out by a fire extinguisher service engineers if the extinguishers are required for business use. This ensures that the extinguishers are installed in the correct location and are certified as a proof of correct installation and sufficient provision against the fire safety risks. The following notes are aimed at self-installers in a purely domestic setting.
It is important to check for electrical cables and pipe work using a suitable detector. When fitting appliances use appropriate wall fixings in conjunction with the manufacturer supplied wall bracket. Additional support may be needed when fitting heavier extinguishers to plasterboard walls. In locations as public halls a "safety bracket" may be beneficial.
Considerations before you can start
Careful consideration needs to be given to the following:
Is the type of extinguisher being installed the correct type for the premises?
Does the fire extinguisher rating provide sufficient square meter coverage for the premises?
Type of wall fire extinguisher is being mounted to
Wall fixings must be suitable for wall type
Weight of the fire extinguisher (9kg dry powder fire extinguisher weighs 14.5kg)
Cables / pipework behind the installation wall
The amount of traffic the installation location is subject to (this can help to prevent accidental demounting, damage and misuse)
Potential for damage to occur to the fire extinguisher in its installed location (eg forklifts operating in the area)
Accessibility to the fire extinguisher in the event of a fire
Correct according to AS2444
The surrounding environment (does the fire extinguisher need a cabinet or cover?)
Extinguisher mounting heights
Max - 1200mm from floor to top of extinguisher handle
Min - 100mm from floor to bottom of extinguisher
Location and display of sign
Min - 2000mm above floor level.
At a point that makes them most apparent to a person of average height & visual acuity.
The extinguisher or extinguisher sign shall be clearly visible for up to 20 metres on approach.
The size of the sign shall be determined by location on and distance at which the sign must be legible.
A minimum of one sign must be provided above or adjacent to an extinguisher even if indicating the location of multiple or a mixed group of extinguishers.
The extinguisher and fire point location signs shall have a symbol, border and letters in white on a red field, complying with Australian Standard (AS) 2700.
The Australian Standard (AS) 2444 Portable Fire Extinguishers and Fire Blankets selection and location will provide comprehensive and specific information.
It is also recommended that you have a square instruction disc (ID – SIGN) directly above the extinguisher wall bracket. Even though these details are on the portable fire extinguisher they can get covered up with stickers etc blocking the instructions